Le'Veon Bell is arguably the best running back in the NFL right now. David Johnson and Ezekiel Elliott will always have a valid argument in this conversation, but Le'Veon is special.
From his days at Michigan State to this offseason's contract hold out, Bell has been nothing short of extraordinary. Granted, he's had multiple incidents with suspensions and injuries have haunted him at the worst times (Last year's AFC Championship game).
None of the adversity phased the 6'1, 225 lb. running back from Ohio. He went straight back to work after coming back from his three game suspension last year. Bell posted totals that were incredible for a player who didn't play 4 games out of the schedule (suspended for 3 games; starters rested the last game).
 Le'Veon's totals for 2016
1,258 Rush yards/ 4.9 avg.
7 Rush TD
616 Rec. yards
75 Receptions/ 2 TD
Bell didn't play in four games.
FOUR GAMES! Give this man a round of applause.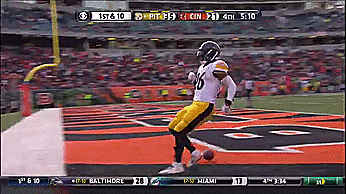 The totals from the 2016 season are numbers that some clear cut running backs, who play 16 games, can't even put up. He's a huge part of a ridiculous offense for the Pittsburgh Steelers. The amount of weapons they have on the offensive end is absurd, and their defense is low-key on the come up too. The team is looking great, but with Bell holding out, the team won't be the same without him. The rushing threat is way less intimidating with James Conner or Knile Davis. Bell boosts this offense into an elite category when he's on the field. 
So why won't the Steelers give Bell what he wants?
His play on the field is unmatched, and he has the numbers to back it up too.
2015(Suspended 2 games,Torn MCL wk.9):
6 games- 556 Rush yards/ 3 TD, 24 Receptions/ 136 yards.
2014(Full Season):
16 games- 1361 Rush yards/ 8 TD, 83 Receptions/ 854 yards/ 3 TD
2013 (Rookie Season, missed 3 games with foot tear):
13 games- 860 yards/ 8 TD, 45 Receptions/ 399 yards.
You can say that Bell isn't as durable as a franchise would want their starting running back to be, but with his world class talent, he's a risk you want to take on without a doubt. He's a rare talent in a running back position that has been getting more and more diluted by the year.
Le'Veon is out to change the market for the running backs. He knows the wear and tear that his fellow running backs take and has taken it upon himself to be the gold standard for running back contracts.
This has been a topic lately this offseason for players. Many players believe that NFL players need to be payed more. Richard Sherman even talked about if players wanted to get paid more, they would all have to come together and do something about it. Odell Beckham Jr. is trying to get a new contract as well and he's, like Le'Veon Bell, wanting to change the market for his position. 
According to Tom Pelissero of NFL Network, the Steelers have already offered Bell over 12 million a year, and the deal included that he would make 30 million over the first two years. Le'Veon has repeatedly talked about wanting to stay in Pittsburgh, and with a deal like that already on the table, Bell's side is going to have to budge sooner or later. Bell also said that he wouldn't take the hold out into the NFL season, so that gives the Steelers some reassurance on their season.
Le'Veon deserves every penny of a new contract, and he might even be worth more than what he ends up getting. If Bell gets what he wants, look for other elite running backs to try and get a Le'Veon Bell type deal, which will more than likely be a very lucrative deal for the position.
Take a crack at this poll on how many yards you think Le'Veon will rush for in 2017!
All statistics from NFL.com